---
---
---
---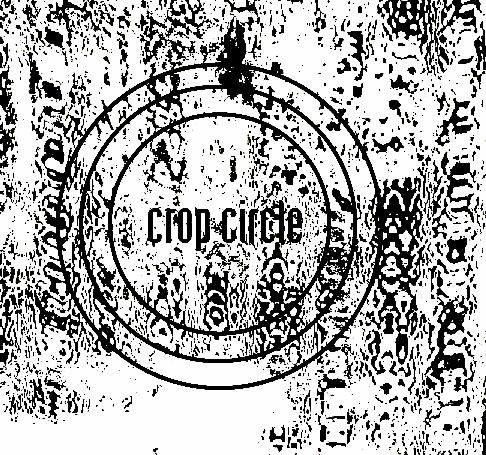 _
ek- Crop Circle
iii
_Radio Pani
07-11-2020
Bienvenue dans l'Antre du Circuit Bending --- We have a talk about circuit bending, mind bending, cut up technique with samples, the soundbank, hacked loopmodules, structure in chaos or is it the other way around. And we play. Here you can hear our voices in pijama- mode.
_
Casa Rosa - Bounce
ounc
e up - The art of now _
05-11-2020
Casa Rosa is het regenbooghuis van Oost- Vlaanderen en bracht de maand november door in teken van weerbaarheid met activiteiten en talks- online. Zo ook een concert van Switch Witch Syndrome- een hoofd kan onderhevig aan angst en twijfel en piekeren soms helemaal verdwijnen in deze staat van zijn- vandaar deze 'The art of now'- impro set vooraf gefilmd in huis.
_
- Broei
@@@
_Soundbank @
22-08-2020
We would love you to donate sound!! It is to connect in recieving and try new liaisons. The idea is to let the platform grow and evolve in any way it might. Digitally upload your recorded sound, any sound, through the upload button in the yellow ribbon below. We will involve the sounds in several workshops and keep the platform open for anyone who wishes to download sound. Welcome! A connection between Switch, Broei and Stad Gent.
_
Build your o
own b
eamer !!! _
06-07-2020
Build YOUR own Beamer is een workshop sessie waarin je low-budget een eigen beamer kan assembleren en kennis maakt met de cruciale componenten. Met simpele tools en een kleine greep uit de massa e-trash om ons heen gaan we aan de slag en bouwen een eigen design beamer. Er is geen elektronische voorkennis nodig, enkel een open mind en een handig stel handen. We bouwen samen een experimentele recup projector. Ideaal als home cinema of voor diy projectieplannen. Uit karton snijden en plakken we het chassie voor lenzen en het LCD onderdeel. We bepalen de lens posities en demonteren een LCD schermen.
_
- oscillator 4046
666
_analog
22-05-2020
Dit is een oscillator gebouwd op de IC 4046. Dit is een eenvoudig circuit. De 4046 heeft niet alleen een output maar ook een cv in; Dat maakt het mogelijk om rythmische signalen door te sturen, zoals met een sequencer. Tijdens de workshop "Build-Your-Own-Oscillator" bouwen we een geluids circuit. We bouwen een elektronisch circuit op een breadboard/ testbord met een schema. Dan solderen we het circuit op een pcb-plaatje en werken af met een cocosnoot als vorm. Er is keuze tussen twee soorten oscillators elk met een specifiek geluid, aan uw oor de keuze. Beide oscillators beschikken over een cv- out dus zijn in principe aan te sluiten op een sequencer. Hier een >>>link<<< naar een werkpagina bedoeld voor workshops, aangaande dit circuit en de atari punk.
_
Antenna
aaa
@Industrial area Ghent _
02-06-2020
Door de aanwezigheid van een elektriciteitscentrale en het industriële karakter van de buurt waren we benieuwd naar de aard van elektromagnetische velden en radiogolven en zijn we eens gaan polsen met Lize's antenne. Deze antenne is een elektronisch circuit opgebouwd rond een 'Integrated Circuit' (=IC) zijnde de LM386 die fungeert als een amplifier en een coil die fungeert als een net om de golven op te vangen. Deze niet-ioniserende niet-optische stralen worden ingedeeld volgens frequentie: • Extreem lage frequenties (ELF) : hoogspanningslijnen en andere elektrische voorzieningen, elektrische apparatuur, elektrisch aangedreven voertuigen,… • Intermediaire frequenties (IF) of middenfrequenties: antidiefstal- en identificatiesystemen, spaarlampen… Radiofrequenties (RF) en microgolven : draadloze apparaten, mobiele telefoons, radio-omroep, tv, radaren,… en zijn hoorbaar met een versterker.
_
- descended from little guitar toy
x
_carton box
22-03-2020
This is a simple circuit bent toy guitar taken out of his case and put in a carton box. There's a pitch bend and body contact. So simple but sounds so good when amplified, especially with some effects.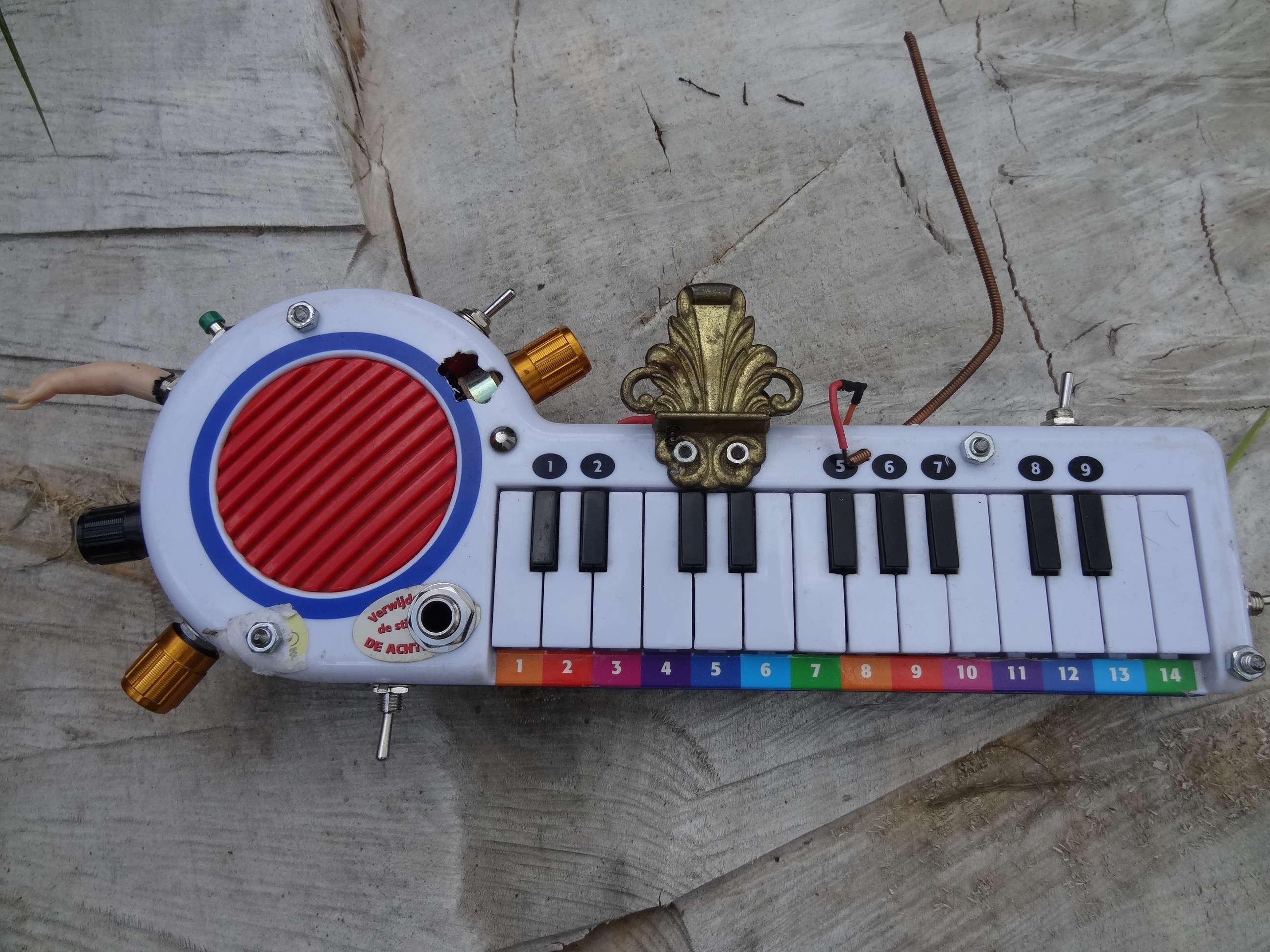 _
Monsta
P
piana _
13-02-2020
This little monster was once a crappy 'made in china' children's toy piano that cost half an euro. After connecting six patches with 2 potentiometers , a capacitor en 2 copper objects as ground it appeared that this sweet piano had become a hardcore bass generator. It modulates when touched and playable in sequence. 3 volts and output jack.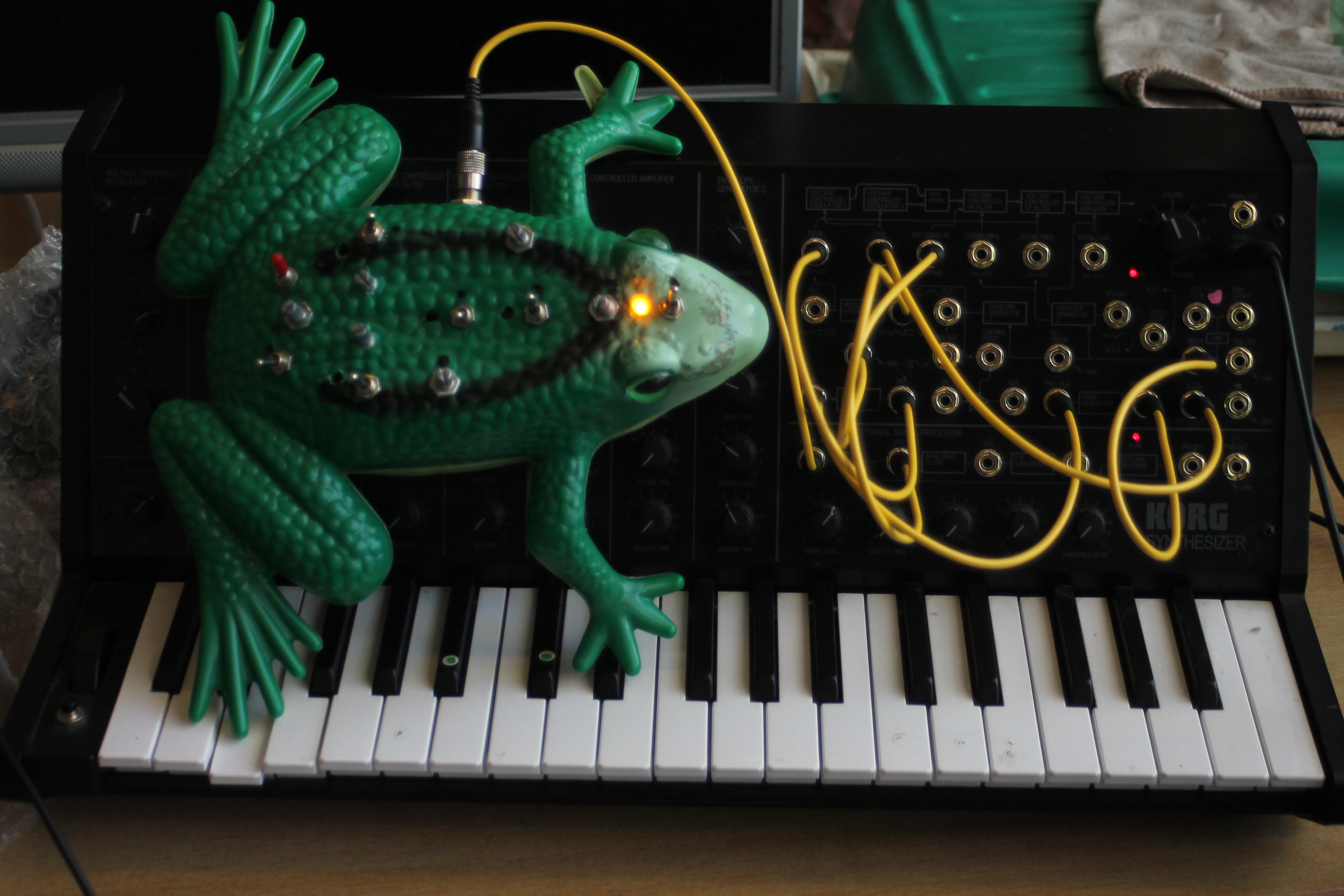 _
og through MS20 mini-
rr
_Hex Schmitt inverter IC F
10-02-2020
Built on a CMOS Hex Schmitt Trigger Integrated Circuit 74C14, an IC never intended for making sound. It's a digital logic chip consisting of six identical inverters. It's a boolean building block, which converts 0 to 1 and 1 to 0. The chip contains a Schmitt Trigger element that transforms a simple digital no-yes-man into a versatile sound generator. The Frog contains a six-voice oscillator. The choice of capacitors influence the pitch of the oscillators. All six oscillators go to one output, they have a switch to put them on/of seperately. And i replaced some resistors to output with diodes so the sound of the oscillators melt in each other. I like the frog best putting it through some filter like the ones of the ms20 shown in this picture.
_
Live set Switch Witch on pin
k
k film _
24-06-2019
This is a piece of an impro set we did live @ a cool place in Herzeele. We put the sound on a stop-motion bluescreen film that was made at 'Langerbrugge Eiland', Wondelgem. We played with analog institutionalised synthesisers combined with our made and bent stuff, never know what's comin'.
_
-bent By Lize Blauw
e
_BENDSY; What bending can be
31-01-2020
Bendsy has an internal voice changer - self - kit- circuit based on the ic HT8950A. This ic is a voice modulator with 7 steps that changes the frequency of an input dramatically. From vibrato to robot. A wild bending with 4 pots, a clock and a connection to an LM386 ic that coverts it to a radio slash electromagnetic-field-receptor. All found a home in a plastic mutated doll.
contact: info@vectral.org || powered by VECTRAL vzw